Tuesday, 11 April 1978
The gardens area and trees are heavily covered with snow. It's the coldest April day since 1940. Aren't we lucky! Elsie couldn't help laughing about coming to England in the springtime and having it snow so heavily.
Big walking day:
To Aldwych to the bank (£100 in traveller's cheques) ­– Wind very cold.
Down the Strand to Nelson's Column and Trafalgar Square.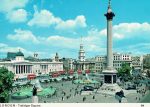 Down The Mall to Queen Victoria Memorial and Buckingham Palace.
Visited Guide shop and Scout shop (all very warm inside).
Cheap fish lunch in Vauxhall Bridge Road.
Called at Cosmos to pick up tickets and tour notes.
Back to Victoria Station to find Platform 7 in readiness for Sunday.
Tube to Knightsbridge and walked around shopping centre. Harvey Nichol's – very expensive. Arrived at Harrods only 10 minutes before closing – will have to go back – appears to be a very big store.
Walked back to South Kensington. Lots of licensed restaurants but could not find any cafes.
Back to room after tea as it was very cold outside. Forecast of 0oC overnight.