Friday, 28 April 1978
Fine/bright
Lucerne to Basel
½ hour into Lucerne. Very clean, quite colourful. 1½ hours to shop before boat trip on lake.
An elderly lady, Mrs Case, had a partial stroke. Ambulance called and she was taken to Lucerne Hospital for tests. She is to stay in hospital for 5-7 days and arrangements were made for a relative to come across.
An hours boat trip out on the lake, across to see a funicular railway and an exposed lift to the top of the mountain.
Lunch at Hotel Monopol.
Another Cosmos group joined us to go up the mountain (Titlis). They had considerable bus troubles.
Magnificent drive through cultivated and improved hillsides. Houses dotted the countryside. Some trees starting to blossom.
Saw cog railway. Steep climb to funicular railway.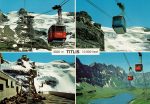 Very steep climb. Carriage holds 50 people. Gradually the valley drops away as the carriage lifts. We progress via three cable cars and much clipping of tickets to top. Spectacular views of the ice and snow as we rise to 10,000 feet. Air was still and it was very cold outside but pleasant in the four-storey building with snack bar, kiosk and restaurant. It seemed to be perched up the rocky cliffs.
Walked through an ice tunnel to an ice cave in a glacier. Cold and slippery.
Takes about 40 minutes to come back down including time waiting at the interchanges.
Drove from Lucerne to Basel. Second largest city in Switzerland. More industry.
Walked the streets. Beautifully clean. Brightly lit. Excellent window displays. Saw a craggy fountain. Nine moving mechanical displays. Wit said one appeared to say 'I can squirt further than you.' Large pool surrounds the displays.
People well dressed. Only shops open were bars and restaurants.
City hotel VG [very good].