Wednesday, 10 May 1978
Fine, hot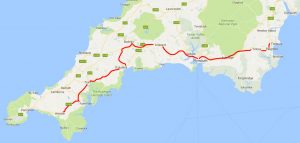 Torquay, Paignton, Totnes A385 to A38 to Plymouth (lunch at dock area).
Model village at Torquay in old quarry, well set out. Wombley, ferries, schools, towns, manor houses, cottages, roads, thatched house on fire.
Trouble finding Cockington – a thatched village. Shops set up in the cottages. large garden & grounds area to church and house.
A38 to Liskeard and Bodmin looking for Lanhydrock House, missed turn-off went to Lostwithiel and then back up.
Found Lanhydrock House at 4.20. Well kept gardens and house. 17th century house burnt out by fire but rebuilt in 1890s. Complete kitchen with bright copper pots. Large spit that would hold a beast. Very high roof. Rooms for dairy, meat, fish, bread – just like kitchens from Duchess of Duke Street. Rooms all set up with actual furnishings, clothes etc., lord's open bath basin – formidable bath in bathroom. Many rooms and gallery with ceiling that dates back to 16th century. Oak panelling, teak staircases, oak staircase. Finished inspection at 5.40.
A391 to St Austell.
A390 to Truro. Searched for a cafe. Had a meal in a Chinese Cafe.
Drove to Falmouth. Around Marine Drive and the beach. Rugged coastline.
On to Helston. Found a B&B at 9 o'clock – £3.50 [each]. Given a cuppa in the lounge.
Ordered 2 packed lunches (60p) each for tomorrow. No H&C but a large bathroom.