Friday, 23 June 1978
Wet (VERY)
Set off to Mt Snowden. Very heavy rain as we went through the Llanberis Pass. Very rugged cliffs but could not see much. Saw the rack and pinion steam engine that goes up the mountain but cloud was very low.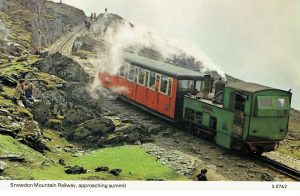 To Carnarvon Castle. The walls very impressive but much restoration work has been done. In one tower an exhibition of the development. Built in time of Edward I between 1280 and 1320s. The city wall completed in 4 years.
Another tower has the story of the crowning of Charles as Prince of Wales. Special chairs sold as souvenirs – slate dias, slate chairs for the crowning.
Very cold and windy in the passageways. Lunch on the quayside.
Saw the 3 bridges of Castle Conwy – rail, suspension bridge (1833) and new road bridge.
Pouring rain. Back up Conwy valley. Looked at shirts – bought little purses in Llanberis.