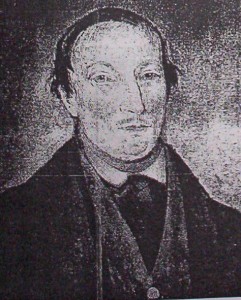 Arthur was the ninth child of Samuel and Sarah EDENBOROUGH nee BOLTON and was born 19 Dec 1820 at 37 Milk Street, London. He was baptised the following month on 19 Jan 1821 in the parish church of the united parishes of St Lawrence Jewry and St Mary Magdalene, London. Also baptised that day was an elder brother, Leopold.
Arthur travelled to Sydney, Australia in 1840 per Elphinstone, in the company of his elder married brother, Henry, and sister-in-law, Margaret. Henry had travelled to Australia to assist further brothers, Samuel and Bishop, in the emerging Australian wool market. Continuing on with his travels we next find Arthur in Valparaiso, Chile, where in 1844, he married Jane GRIFFIN, daughter of George Griffin, master mariner.
While Arthur and Jane's first child Emily was born back in London in 1845, shortly after, Arthur, Jane and the infant Emily travelled to Australia, where their next three children, Claude Dudley, Augusta Jessie and Edwin, were all born.
In January 1851, while in the employ of the Customs Department in Sydney as a tidewaiter, Arthur was placed at a moment's notice on board the Emerald Isle, an American ship anchored in Sydney Harbour, in an attempt to stop the ship from leaving the port until necessary repairs had been undertaken. Instead, Arthur was "carried off in a piratical manner by the captain".
Expecting to have been only a few hours on board the Emerald Isle, he had taken "neither bed or extra clothing of any kind with him, and was therefore obliged to sleep on the bare planks of the damp cuddy".
Arthur was eventually put ashore in Honolulu where he obtained the assistance of the British Consul General to obtain return passage to Sydney, via New Zealand, arriving home in June of 1851.
The ordeal left Arthur in a weakened state and within a few short years he was no longer able to continue employment and was suffering extreme poverty and abject dependence due to the deprivations he experienced from the clandestine departure of the Emerald Isle.
Arthur Edenborough died in 1869 aged 48 years.