I recently spent 18 wonderful days combining my two favourite passions – cruising and genealogy.
Participating in the 10th Unlock The Past Genealogy Cruise I boarded the Celebrity Solstice in Auckland, New Zealand and sailed to Fremantle, Western Australia visiting the Bay of Islands, Tauranga, Wellington, Akaroa, Dunedin, Dusky, Doubtful and Milford Sounds, Sydney, Melbourne and Adelaide, along the way.
The concept is wonderful – each evening after dinner a talk was presented, then on sea days you could attend all, or as many, conference presentations as you wanted while also enjoying the opportunity to visit travel destinations on the port days.
The team at Unlock The Past put together a terrific mix of 75 lectures plus 3 one-on-one research help zone sessions covering an eclectic mix of research strategies, case studies, techie and general interest presentations.
I especially found the number of 50+ participants to be a good size allowing more flexible and friendly dining and activity options than is available at land-based conferences.
Our conference room located on Deck 14 was amazing, with a floor to ceiling glass wall that allowed us the opportunity to search for marine life while listening to our speakers. So important was this feature, in fact, that the order was given by Judy Russell to disrupt her talks should a whale or any dolphins be seen!
Judy Russell is better known through the genealogical world as The Legal Genealogist and based on her humour, knowledge and presentation of her talks, I would loved to have seen Judy in action in the courtroom.
Covering such topics as copyright law for genealogists, women under common law, DNA and ethics of genetic genealogy, circumstantial evidence and reconstructing life-changing events, Judy had a full room of participants completely enthralled from go to whoa.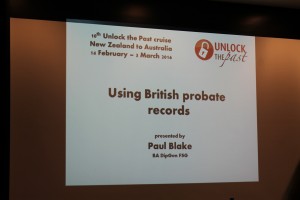 Our other international speakers were: Paul Blake from England who delivered several informative presentations covering British probate records, Irish research, the English manor and tithes and crime and punishment; Louis Kessler from Winnipeg, Canada, opened our eyes to improving our research with source-based genealogy, making the most of our genealogy software, organising our computer files and using life events to solve genealogy problems; and Jan Gow from New Zealand enlightened us with new gadgets and better ways to internet search, prepare for research trips as well as new ways to look at familiar procedures.
Our Australian presenters – Helen Smith, Geoff & Margaret Doherty, Diane Foster, Rosemary & Eric Kopittke and Shauna Hicks – also covered an amazing range of topics, too numerous to mention here.
I'm already booked and looking forward to meeting up with the UTP team for the #13th Unlock The Past cruise – Brisbane to Papua New Guinea – on board the Pacific Aria 28 July to 7 August 2017.