In 1978 one of our uncles, Jim, was eligible to take accrued long service leave and on Saturday, 1 April 1978, Jim and his wife Elsie took off on what would become their overseas trip of a lifetime.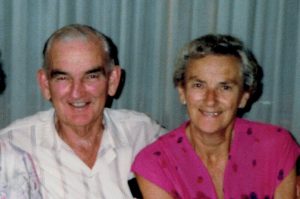 Jim kept a diary of the holiday and wrote that the flight was: Very smooth all the way. Arrived in Athens 7.45 am (2.45 Sydney time) – Elapsed time 22 hours.
Leaving Sydney Airport at 4.45 pm – in a Qantas DC10 – they travelled seven hours to Singapore (hot, humid, a hive of activity – 28oC – snack and dinner [provided on the flight]), followed by seven hours to Bahrain (snack and breakfast), and then four hours to Athens (breakfast).
We lost Jim in 1988. We lost Elsie in 2017.
As a tribute to their memory I thought it would be nice to reproduce – day-by-day –Jim's diary and photos of their holiday over the coming weeks. Starting tomorrow you can follow their arrival in Athens and travel along with them as they explore Greece, Belgium, Germany, Sweden, Italy, Switzerland, France, Russia, Denmark, Norway, Scotland, Wales and England.
Make sure you check back each day to follow their journey and click on hyperlinked words for fascinating descriptions of the places they visited.