Saturday, 27 May 1978
Fine, warm-hot
320 miles to Novorogod [sic]. Flat country
Wooden houses on sides of main road. No signs of guttering or tanks. Saw one village pump. Roads better. Picnic lunch – triple slice sandwich meat and cheese – boiled egg – cucumber and bottle of lemonade.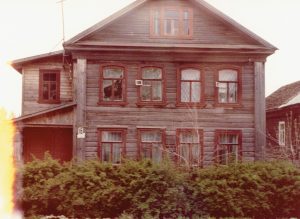 Novorogod [sic] 6.15. Hotel only about 12 months old. Room with shower and toilet and very hot water.
Very neat room.
Optional dinner (£5) at a restaurant in old monastery. In cellar large table. Fish dish and salad similar to Greek dish and bowl of beef and tasty mixture of soup like vegetables in it.
Russian alcoholic jug and Russian sweet drink. B & butter and very sweet tea with cinnamon and some bottles of Vodka. A noisy group of 30.