Sunday, 18 June 1978
Fine & hot
Breakfast 9. Drove round to find way to Edinburgh Castle. Had lunch below the walls. Walked up and had a guided tour to show main features. 9 gates originally to protect entrance. Crown sceptre and orb on display in special secured room.
Walked down the Royal Mile with many of the tourist shops open. Came past Waverley Station. Took sightseeing bus – the sea, the city, the hills. Down to Portobello area out to foothills of the Pentland Hills and into city. Very rough ride in the double decker.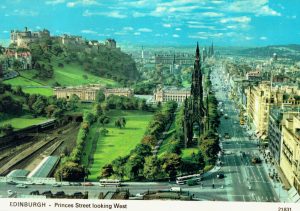 Drove to Queensferry South and viewed the Firth of Forth – Rail 2600 yds (1883-1890) and the Road Bridge – 2000 yds (1964).
Back to a lavish supper.