When I had to pull out of the Unlock The Past Alaskan Inside Passage genealogy cruise last year, my biggest disappointment was missing out on Maurice Gleeson and Michelle Patient's DNA presentations as well as the "The Genetic Genealogist" Blaine Bettinger's preconference day in Seattle.
So, immediately I found out that UTP was doing a DNA Down Under roadshow it didn't take long to book myself in. And the best part – the Sydney conference will be held over 3 days!
Supporting international speaker Blaine Bettinger, is a lineup of Australian DNA "Royalty" – Louise Coakley, Helen Smith, Michelle Patient, Kerry Farmer and Fiona Brooker.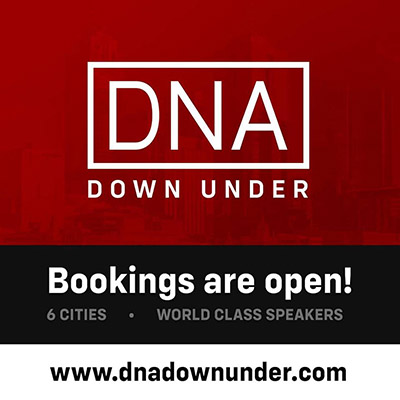 The Sydney conference is being held Thursday-Saturday, 29 to 31 August at the Castle Hill RSL Club and I was able to take advantage of the Early Bird pricing of $275 (ends 30 April after which the fee will increase to $335) and includes a light lunch and morning and afternoon tea for each day.
A preliminary programme is now available and, with three streams running concurrently, it is going to be very hard deciding which presentations to attend.
This event is for everyone including those who:
have not done a test yet and want to know how DNA can help
have tested but are not sure what to do next
have gone further, but know there is more to learn
consider themselves expert, or on the way there, but who want to learn more from the very best
Prior to Sydney, the Roadshow will also be visiting Brisbane (14 August), Perth (17 August), Adelaide (20 August), Melbourne (23 August) and Canberra (26 August) with an Early Bird price of $125.
If you have any interest in DNA then this is an absolute must attend event.